RFP Session Proposal & Speaker Nomination

| Oct 25 | Oct 25 - Dec 1 | Dec - Jan | Feb | Mar - Jun |
| --- | --- | --- | --- | --- |
| | Application period | Review period and decisions | Session organizers work with JFF on any changes suggested by the Horizons planning team | Planning, final communications, and room assignments |
Interested in sponsoring a program session? Please visit our sponsorship page or contact Justine Zawatski at jzawatski@jff.org. Program sponsors must commit by January 31, 2024 and sessions must be complete by no later than April 26, 2024.

Still have questions? Reach out to a member of our team.
Our Audience:
People looking to drive real change in our education and workforce systems. That includes senior and C-Suite executives looking to learn, advance, and build new strategies to better serve emerging learners and workers, mid-career professionals interested in deepening their knowledge, and entry-level professionals looking to advance their knowledge.

You can expect attendees from philanthropy, small businesses, Fortune 500 companies, venture capitalists, workforce agencies, government and policymakers, educators, nonprofit organizations, and beyond.
What we're looking for:
Cross-sector conversations. While some conversations are specific to an audience or population, Horizons is about bringing together representatives from across sectors to drive collective action.

Expertise. Speakers and session organizers that have an intermediate level of expertise at a minimum.

Innovation. Ideas that show new ways of thinking, big ideas, and action.

Creativity and what's new. New ideas that aren't commonly talked about or a new spin on an existing topic.

Diversity in perspectives.

Interaction. We encourage you to think beyond a panel (we know, it's hard). How can you engage the audience? What opportunities are there to go deeper?

Lessons learned. Sessions should not resemble a sales pitch or an opportunity to showcase a single organization, project, or program. All sessions should have a call to action for various stakeholders in the audience.
Proposal Types
Submit an application for a full session or to participate as an individual speaker.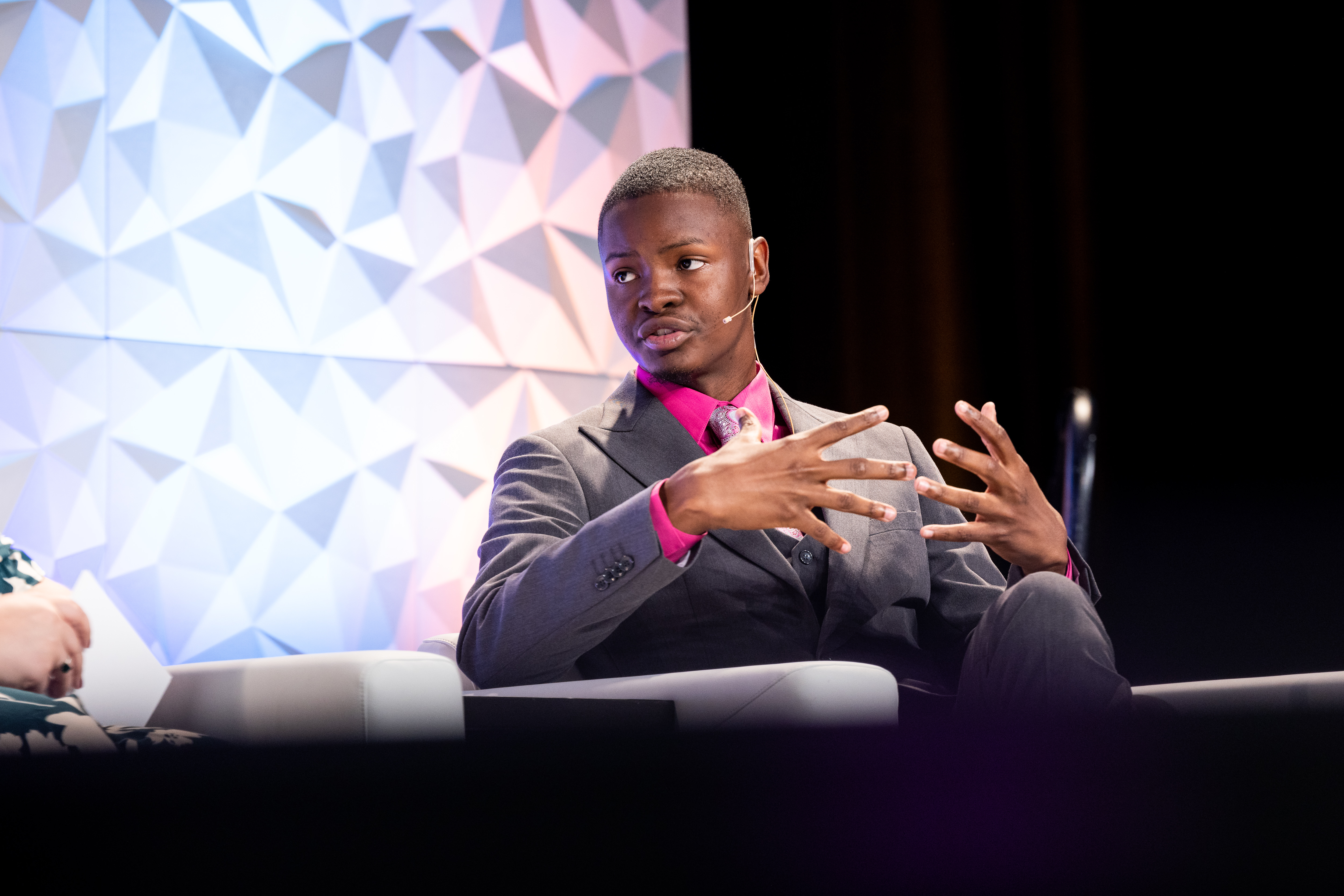 Individual speaker
If you're not interested in submitting a full session application, you can apply to speak at Horizons. Speakers may be considered for breakout sessions, mainstage, our Candid Conversations Vodcast Stage, and other opportunities.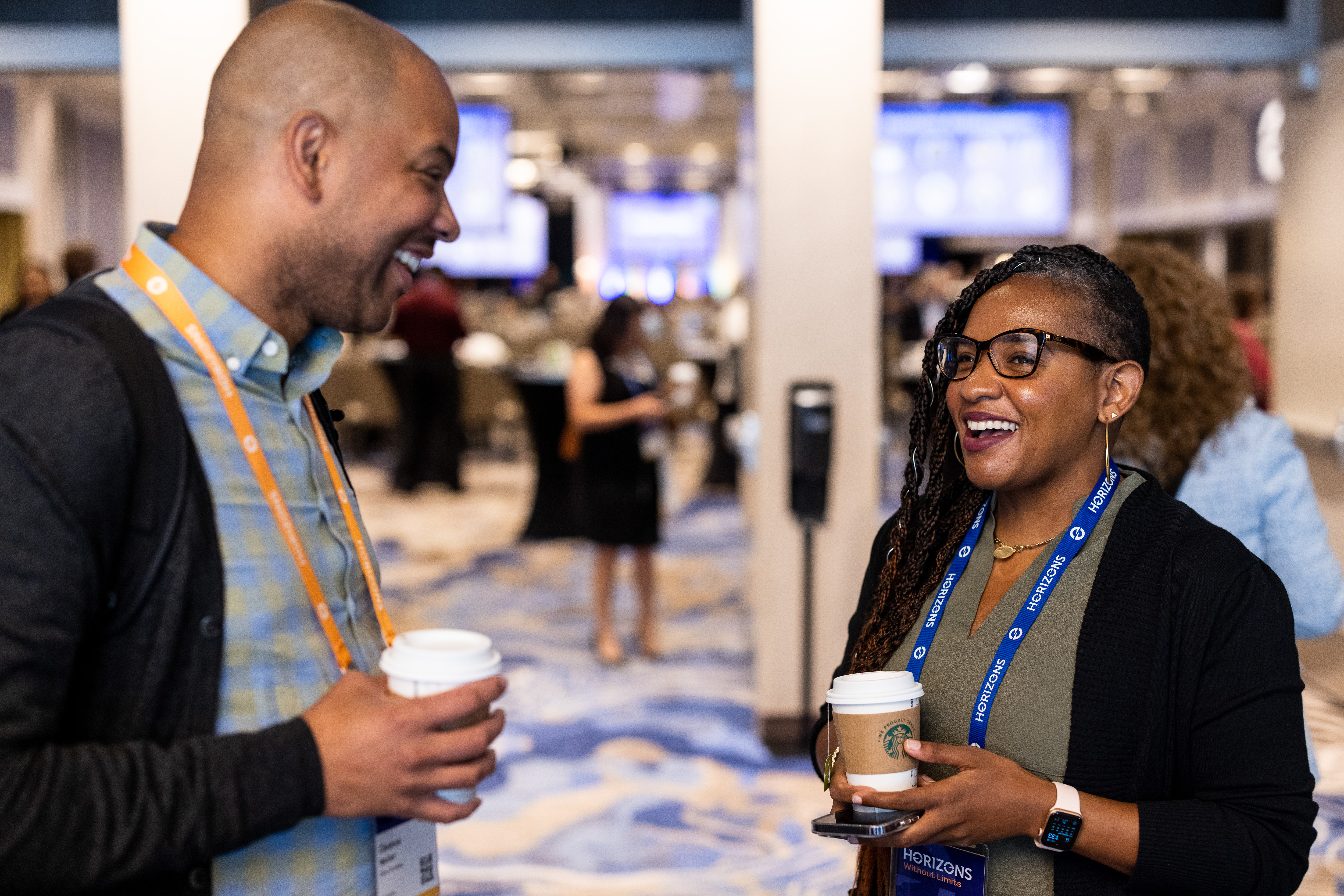 Networking
Lead a networking session on a singular topic or multiple topics. Bring people from across sectors, geographical regions, and professional backgrounds together to meet and build connections. Minimal programming suggested.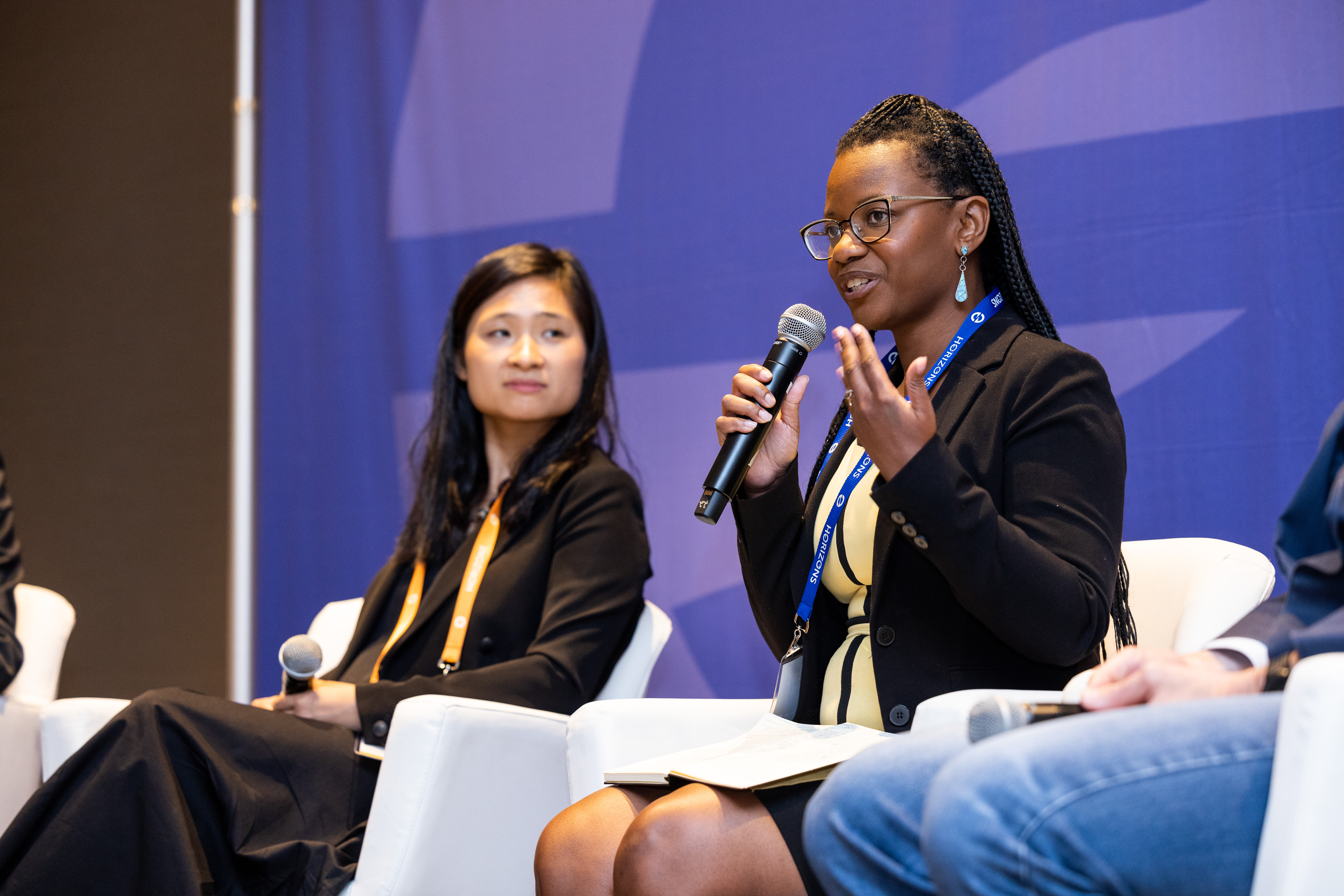 Workshop
Workshops are an opportunity to go deeper on a topic with attendees. Workshops can have up to 3 "speakers" or session moderators. Speakers are required to have mid-to-advanced-level expertise on a topic. Workshops are NOT meant to get feedback on a program, product, or service.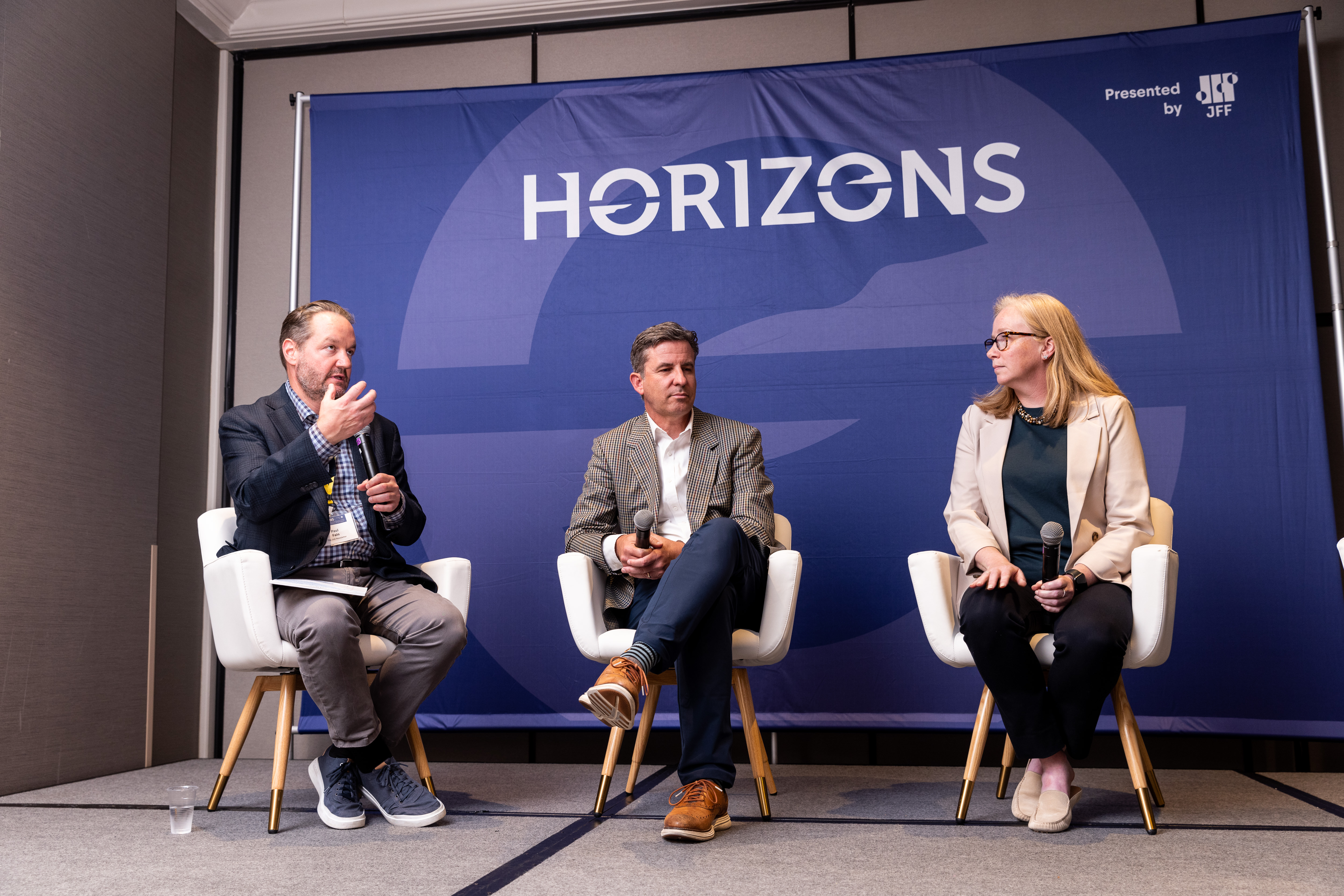 Lightning Round
Lightning round sessions include 3 speakers delivering short, individual presentations that present big ideas and new, innovative thinking on a topic.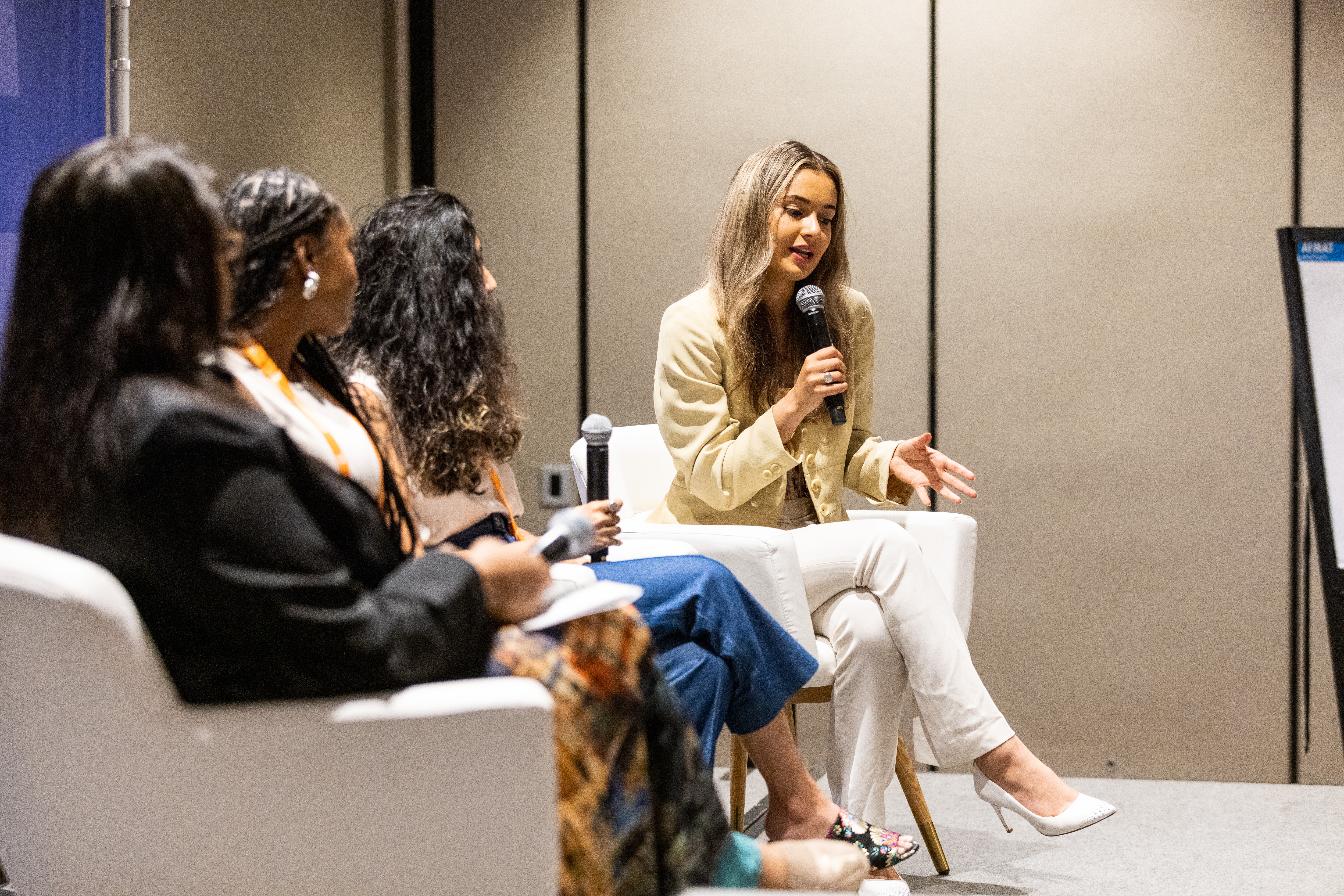 Debate
Debates can be 2-4 speakers and speakers should present opposing views on a topic or multiple topics.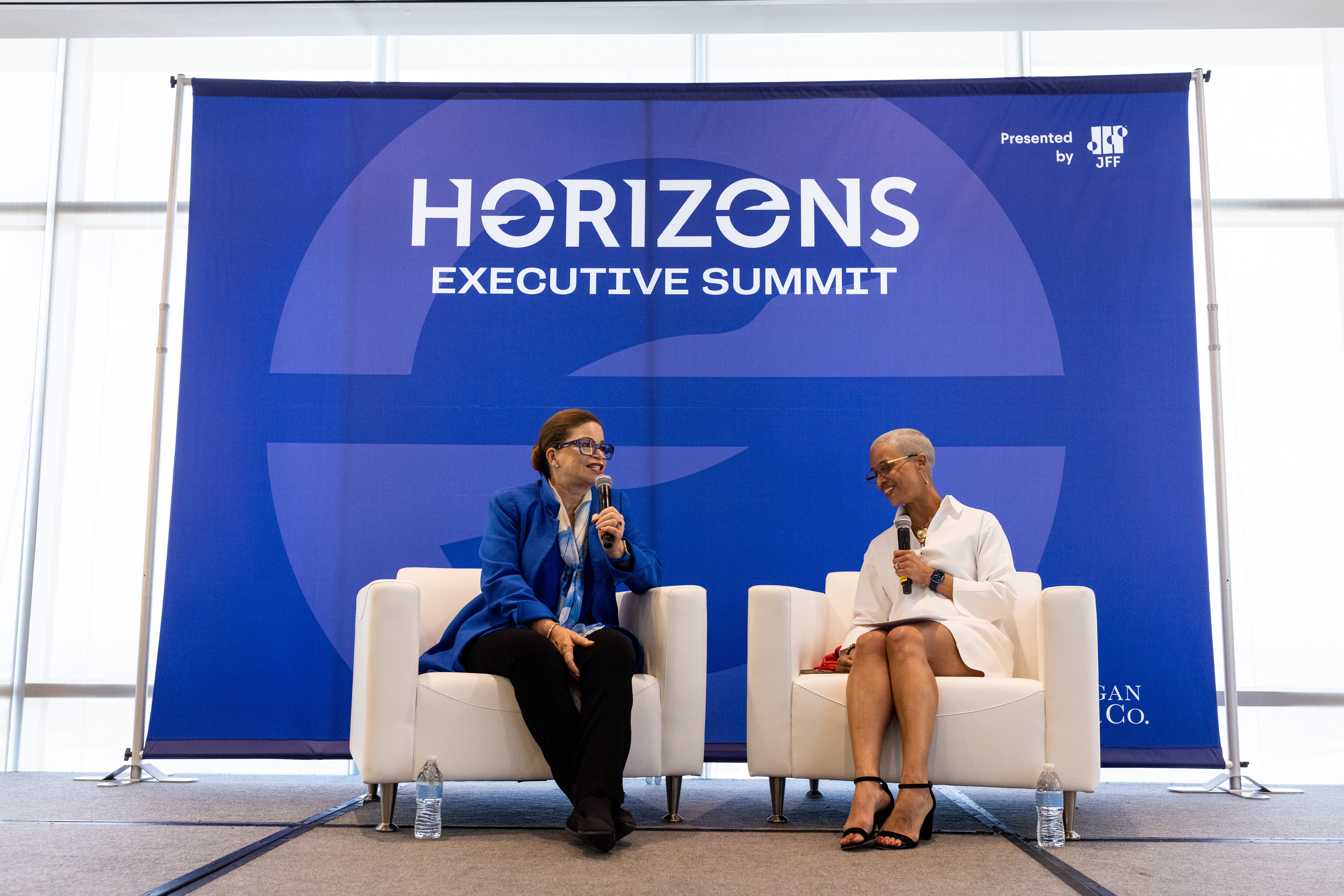 Fireside chat
Fireside chats bring together 2 thought leaders having an unmoderated conversation on a particular topic.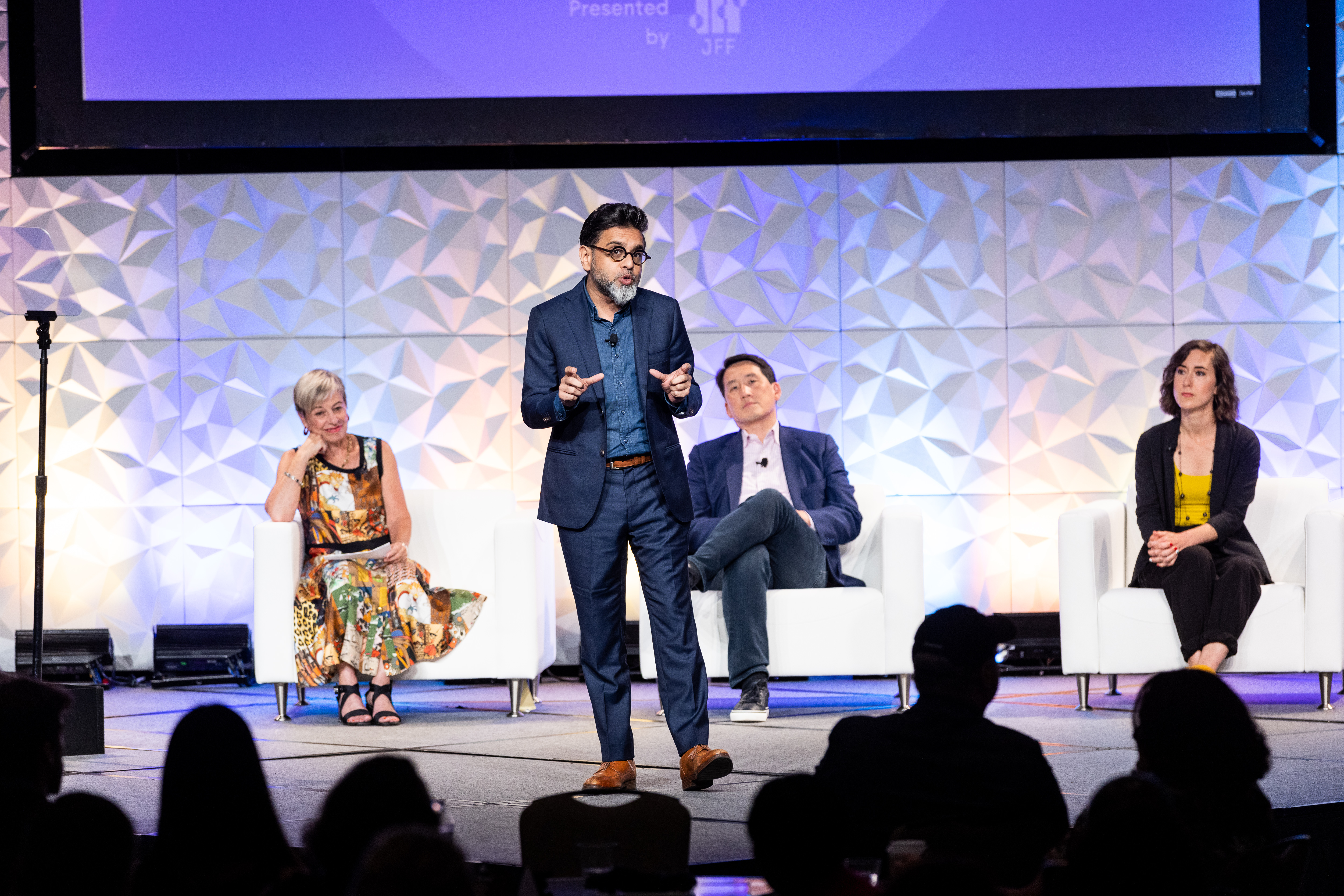 Panel
Panel sessions may include up to 4 speakers—including the moderator!
Other
Submit your own idea!
Guidelines:
We have limited spots and will not accept multiple sessions per organization, so please only submit two ideas per company/organization.
It's your responsibility to confirm speakers' availability before submitting an application.
All speakers must be available on both July 22 and July 23 to be considered.
JFF reserves the right to accept session ideas as-is and publish information submitted in the session.
Your session will either be accepted as-is (meaning no speaker changes can be made) or JFF will suggest changes in session topic or speakers.
Once you submit your proposal, the portal will not allow edits. Please review your application carefully before submitting.
Session changes may be requested but are not guaranteed. If your session or speaker lineup changes significantly, JFF reserves the right to revoke accepted sessions.
We will not be accepting late submissions. Please reach out with any questions you have well in advance of the deadline!
Accepted speakers will not pay a Horizons registration fee. If the status of the speaker changes, their registration will be cancelled.
Subscribe for Updates About Horizons